What's a Cammeo?
"More than an object, a cameo is a type of processing: the workmanship of the cameos. You engrave a stone, a shell, a coral by exploiting the nature of the raw material, making it stand out by creating a bas-relief or a high relief".
I know this may seem like a vague description, but it has to be an all-encompassing definition.
1) The materials used can be various: from shells to coral, from ivory to stones.
2) Not all cameos have different colors in different levels, not all cameos exploit the color differences of the material on which they are worked.
3) Not all cameos are high reliefs, some of them are bas-reliefs (seals and carvings for example).
THE CONCHECKS
Most authentic cameos are engraved on shells.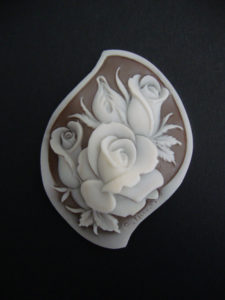 The CORNIOLA shell (Cyprecassis Rufa) has two levels: one white and the other one red. From the shell the white part is engraved and removed until it reaches the red level, creating a chromatic difference that enhances three-dimensionality and contrast. Here is a crucial point: the material is only shell, not a white application on a red base: only the 2 different colour levels are used to create a three-dimensional effect. So it is not an application of an ivory plate on a coral base, as you might think.
The SARDONIC shell (Cassis Madascarensis) has brown coloring and similar characteristics to the previous one, favoring a greater contrast (white and dark brown) and therefore a greater perspective effect.
Other shells that are used more rarely, but are much loved by connoisseurs and collectors are the following: CORALLINA, TIGRINA, MADREPERLA.
SILVER AND GOLD CAMEOS
Online sale of Cameos mounted on gold and silver
Since 1940, Coral and Cameo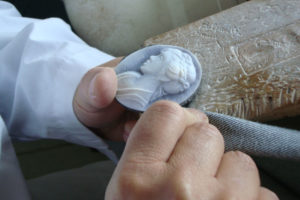 in Amalfi  offers a wide selection of hand engraved cameos in shell Corniola and Sardonica one.
Pendants, brooches, rings, earrings, cufflinks  mounted in 18 Kt. gold and 925% silver.
Antique and vintage cameos are our specialty, because for more than 80 years we have been creating the real Italian carving strictly hand engraved, inspired by the ancient Renaissance art: the three graces of Botticelli or the birth of Venus, milestones of our culture, are strictly made with love in Italy using the ancient glyptic techniques. The setting of cameos is also made exclusively by hand, making each product unique and original.
Coral and Cameo is able to create your customized cameo.